Our eGo 1100mAh Batteries are grade A they can be used with any eGo or 510 Fitting Atomizer/Clearomizer, (all of our kits and clearomizers)
Click the button 5 times within 2 seconds to turn it ON/OFF. Automatic Cut-Off Protection if button is held down for longer than 10 seconds.
These Batteries punch well above their weight in practicality, usability and price.
eGo 1100mAh Battery;
Lasts up to 12 hours of use from a single charge
Made from the best quality materials

'5 Click Technology' and Cut-Off Protection

Fits ANY eGo or 510 Atomizer/Clearomizer

Available in a Variety of Colours, Black, Stainless,Blue &Red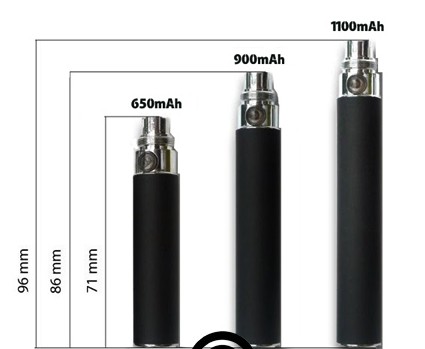 Battery Safety
Safety instructions and warnings
With all the recent bad press about e cigarettes not being safe and many causing explosions it is paramount that you understand why you should only charge your batteries with correct charging equipment.
As with all electrical items, care should be taken when charging these devices. Puff Dad E Vaping Supplies reccomend customers only use the chargers supplied with our e-cigarette products as our suppliers have taken all care to ensure our chargers and batteries are completely compatible at all times. Should you need additional or replacement charging items, please check our chargers section on the website, if you are still confused then call us during opening hours on 01992 700770 where we can advise on the correct charger for your equipment, Puff Dad E Vaping Supplies take no responsability for the incorrect usage and the use of incorrect chargers.
Some of the guidelines you should follow, are:

1 - Never leave a battery on charge overnight

2 - Never use any other charger than the one supplied with your e cigarette

3 - I Phone & Ipad chargers and other mobile phone chargers should NEVER be used, as the output of these chargers is far too high and could cause a malfunction of the charging device and in turn your battery and may cause explosion or fire.

4 - Think about where you plug in your charger. Behind curtains, in tv cabinets or places where there is a lack of ventalation is not reccomended.

5 - Never expose a lithium battery to extreme heat of water.

6 - If your battery looks like it is deformed or genrally changing shape, or the top and bottom caps look to be in a worn state, please stop using the battery immediately and seek further advice. Always dispose of worn batteries at your local recycling centre.
ALWAYS

make sure your charger is the correct charger

NEVER

use an IPhone,IPad, Blackberry or any other phone charger

ALWAYS

buy from trusted sources
NEVER leave your battery unattended

ALWAYS

remove your battery once charged

NEVER

charge your battery overnight

TEST

your smoke alarm regularly (IT MAY SAVE YOUR LIFE)

NEVER

charge in an un-ventalated area

NEVER

let your battery come into contact with extreme heat

NEVER

let your battery come into contact with water

NEVER

use a battery that has received an impact strike

NEVER

charge near combustable or flammable materials

NEVER

mix componants of different e-cigarettes

NEVER

stack batteries for more power

NEVER charge longer than 2.5 hrs